Patient Safety
The safe care of patients entrusted to us is our top priority and we are working tirelessly to ensure the continued improvement of patient care.  Our ultimate objective is to be trusted to deliver safe, effective healthcare to our community - consistently.
We aim to be recognised as one of the safest hospitals nationally and internationally, delivering safe, evidence-based care, partly by acting and learning when we identify a need for improvement.
---
Goals
Our guiding principle is to provide safe, patient-centered care to a consistently high standard.  To achieve this we have established six key streams of work:
Ensuring consistency of care, 24 hours a day, seven days a week
Reduction of harm by early detection of the patient at risk of deteriorating
Reducing mortality and improving mortality indicators
Excellence in end of life care
Infection prevention and control
Action on areas of frequent harm
---
A culture of safety
We encourage and require all our staff to report adverse events and unsafe conditions, to take action when it is needed and to seek assistance when concerned that the quality and safety of the care being delivered is threatened.  
Our aim is to promote an open culture.  Staff should be aware that that they are accountable for their actions however we want to develop and maintain an environment that feels safe, recognising that they will not be blamed for system faults in their work environment beyond their control.
---
Involving patients in safety
We recognise the value of working with patients and carers.  We welcome patient partnership and strive to support patients to be more involved in their care.  If you have any concerns we would encourage you to speak to a member of ward staff immediately.
We want our patients to:
Be involved as much as they want be in decisions about their care and treatment
Let us know if anything of concern is noticed
Be sure that we identify them correctly
Ensure that they understand what we are planning to do before consenting to treatment
Know what medicines they are taking and why
Inform us of allergies
Alert us to non compliance, for example with hand hygiene. 
---
Infection Prevention
For further information about the work we are doing in Infection Prevention click here to visit our web pages.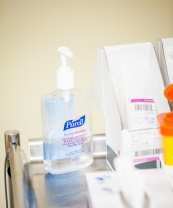 Our guiding principle is to provide safe, patient-centered care to a consistently high standard.