Filming requests
All requests for filming and photography on any of our hospital sites must be made in advance through the communications team.
We reserve the right to decline requests which conflict with operational requirements or our duty to respect patient and staff confidentiality, or which we feel are not in the best interests of the Trust.
To make a filming request please email the Communications Team.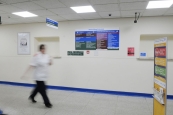 Please do not arrive on any of the hospital sites without permission. If you do so, you may be asked to leave.