Have you thought about a career as a District Nurse?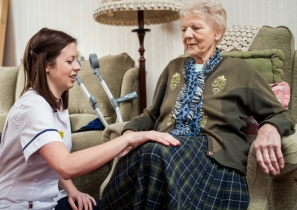 We are working in partnership with NHS Yorkshire and the Humber, other local healthcare providers and Leeds Beckett University on a regional campaign to recruit registered nurses to undertake a District Nursing training programme.
If you have the drive and passion to make a difference and you want to support initiatives that result in people having their care needs met at home, then this may be a great opportunity for you.
Starting in September 2016, you can undertake a one year full-time or two year part-time District Nursing training programme.
You must have a current Registered Nurse (Adult) registration and hold a first degree (2:2 or above) in a relevant subject or be undertaking the Professional Portfolio Development module at Leeds Beckett University.
If you successfully obtain a place on the programme you will be seconded onto the course by our Trust or one of the other sponsor employers (Bradford, Leeds, Harrogate or Airedale Trusts) who offer practice placements. Students on the course are eligible for a paid salary and will have their course fees paid by the NHS.
21 January 2016