Orthopaedic surgery to be developed at Bridlington Hospital
Planned operations for orthopaedic patients on the East Coast will soon be delivered at Bridlington Hospital.
Patrick Crowley, Chief Executive of York Teaching Hospital NHS Foundation Trust, said: "It is increasingly evident that demand for beds for emergency admissions is growing year on year, and is likely to get worse over time.
"This causes us to cancel operations, which is clearly not ideal for our patients, frustrating for our staff, and potentially endangers the sustainability and longer-term future of some of our elective services on the Scarborough site.
"The amount of accommodation available at Bridlington Hospital provides us with the opportunity for a new orthopaedic ward and theatre complex designed around the needs of our patients.
"Kent ward has been refurbished to create an elective orthopaedic facility in readiness for this move, and a modular operating theatre is due to be installed at Bridlington Hospital to enable this to happen more quickly.
"Some sessions are already being delivered at Bridlington, with more due to start in the coming months. This gives us the opportunity to realise our aspiration of becoming an Orthopaedic Centre of Excellence, and to use Bridlington Hospital to its full potential, whilst better serving our emergency patients on the Scarborough site.
"The orthopaedic service in Scarborough has a well deserved national profile and a fantastic reputation in terms of both patient experience and for delivering a high quality, efficient service. This is due to the stafffs dedication and motivation, and we will ensure that they are supported throughout this development so that we can safeguard their service for the benefit of people on the East Coast for years to come."
Some orthopaedic surgery, including emergency cases, will continue to take place at Scarborough Hospital.
06 February 2014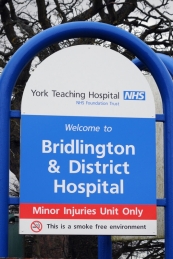 For further information contact Lucy Brown, Head of Communications, on 01904 721417 or email.