We have Nurse Vacancies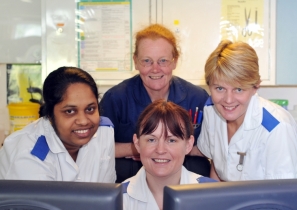 We are looking for nurses to join York Teaching Hospital NHS Foundation Trust to help us deliver safe, effective and sustainable healthcare within our communities.
As a nurse at York Teaching Hospital NHS Foundation Trust you will benefit from flexible working arrangements, excellent staff benefits and a wealth of opportunities to help you fulfill your ambitions and progress up the career ladder.
Our nurses are spread across many specialities including paediatrics, urology, oncology, neurology alongside many more. There are a variety of shift patterns and working hours available as well as the opportunity to work in an acute hospital, community hospital or out in the community.
To view our current nursing vacancies, please visit the NHS jobs website.
If you are currently a registered nurse but haven't seen a nursing vacancy to suit you, we would still love to hear from you. Please send a copy of your up-to-date CV, along with your areas of preference for vacancies that may be of interest to you in the future, to nurse.recruitment@york.nhs.uk
24 February 2015