Research and Development
The Trust is actively involved in research.
Research in health care is very important. It helps us answer questions such as:
Does this treatment work?
Who is at risk of developing a particular condition?
How accurate is a diagnostic test?
How can we organise our services so that we provide the best quality of care?
Research has led to better treatments for many conditions such as cancer, diabetes and stroke.  We also have a better understanding of why some people get certain health problems.  Research has improved the accuracy of some of the tests we use to see if someone has a condition or not.  It has also given us a better idea of what it is like to live with particular health problems.  All of this new knowledge helps us to develop services and provide better advice, support and treatment.
What research takes place within the Trust
We have about 230 research projects taking place within our service at any one time.  Many of the studies test out new drugs and treatments for problems such as arthritis, cancer, eye problems, heart disease, kidney problems and stroke. 
We are also involved in other types of research.  These other studies look at issues such as how a particular medical condition progresses, what factors increase the risk of someone getting a certain health problem,  what people think about aspects of healthcare such as genetic testing. 
Some of the projects are taking place throughout the UK. Others just involve York and Scarborough and perhaps our neighbouring NHS trusts.  All research projects have to have certain approvals before they can begin.
Funding for research comes from many different sources such as:
Charities: British Heart Foundation, Cancer Research UK
Department of Health
Drug and medical device companies
Research Councils.
Many different members of Trust staff are involved in research:doctors, nurses, pharmacists, psychologists and therapists.
How can you get involved in research?
Some patients and members of the public become involved in research by taking part in a research study.  Perhaps you have helped us test a new treatment? Last year just under 3,000 people took part in research projects at York Hospital and just over 550 at Scarborough Hospital.  Our research not only involves patients and their families but also healthy volunteers.
Members of the public also help us to manage the research that takes place in our Trust.  They sit on a committee called the Research and Development Group.
Patients and members of the public are sometimes involved in choosing topics for research and deciding how the research should be carried out.  This helps to ensure that research is relevant to people's needs and concerns.  If you are interested in knowing more about public involvement in NHS research, you can contact Involve.  This is a national group that has been set up to support and encourage public involvement in NHS research.
Would you like more information?
If you would like to know more about research in general you may find the following websites useful:
A website that provides information about all aspects of research in the NHS. This includes people's experiences of taking part in research projects.
This website provides information about research into cancer.
If you would like to know more about research at York Teaching Hospital NHS Foundation Trust, please contact the Research and Development Unit. You can telephone us on 01904 726996, email us or visit our website North Yorkshire Research.
If you are interested in research involving healthy volunteers, please contact the York Clinical Research Facility (CRF). You can telephone the CRF on 01904 721893 email (crf@york.nhs.uk) or visit the website at http://www.crf.york.nhs.uk/
---
Performance
York Teaching Hospital NHS Foundation Trust, like other NHS providers holding NIHR contracts, is required to provide quarterly performance reports to the NIHR Central Commissioning Facility.
These reports provide an overview of recruitment to clinical trials, including commercial contract clinical trials.  They show whether the Trust has met the '70 day benchmark' of recruiting a patient into a trial within 70 days of receiving a valid application for approval to open the study.
The reports for the third and fourth quarters of 2014/15, the first, second, third and fourth quarters of 2015/16, the first, second, third and fourth quarters of 2016/17 and the first quarter of 2017/18 can be found below.
2017/18
---
2016/17
---
2015/16
---
2014/15
For more information about these reports or any of the studies, please contact the R&D Unit.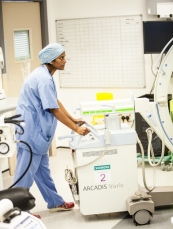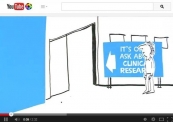 Click here to view a short film about Research and Development
Last year just under 3,000 people took part in research projects at York Hospital and just over 550 at Scarborough Hospital