HCA Recruitment
Are you interested in becoming a Health Care Assistant?
Do you have a desire to deliver first class patient care?
Are you compassionate, reliable, motivated and ready for a challenge?

If so, you will be interested to know that we regularly recruit a number of highly motivated and committed Health Care Assistants across a number of different departments within our organisation.
Open Days
The process for the recruitment of Health Care Assistants to our hospital vacancies requires attendance at a mandatory pre-application open day. These take place at regular intervals throughout the year in York and Scarborough, allowing prospective applicants to acquaint themselves with the life of a Health Care Assistant at the Trust.
Please note that all Open Day events are advertised via the NHS Jobs Website and on our Facebook page. Unfortunately, we cannot advise on the time of the next open event outside of these adverts as their availability is inextricably linked to the number of Health Care Assistant vacancies across the organisation.
The Open Days provide candidates with the chance to find out all they want to know about the role, and the kind of opportunities that are available. You will be able to chat to our current staff, ask them any questions you may have and discover more about the many benefits of working for the Trust. Following the session you will be able to decide if being a Health Care Assistant at York is right for you. Our recruitment team will also be available to provide support and advice in relation to completing your application and preparing for interview.

Only candidates who have attended the Open Day will be able to apply for the Health Care Assistant positions.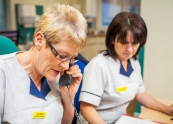 All open day events are advertised via the NHS Jobs Website and on our Facebook page.