Volunteering
There are currently around 300 volunteers working for and with the Trust, either directly or through partner organisations. 
Volunteers fulfil a variety of roles but their purpose is always to enhance the patient experience. Although volunteers do not perform any clinical roles, they are able to get some hands on experience of what it is like to work in a hospital environment and to work alongside hospital staff.
What opportunities are available?
Our next recruitment round will open at the end of January 2020. Details about some of the roles we recruit to can be found here and more information will be posted online throughout January.
How much time do I need to volunteer for?
You can give as little as a few hours for a day or as much as several days a week. Because of the time it takes to get volunteers trained and settled, we do hope that volunteers are able to commit to volunteering with us for at least six months.
Are there any age restrictions?
Volunteering is open to anyone aged 16 and above. Some age restrictions may apply on certain wards or in certain roles.
What are the benefits of volunteering?
Some people volunteer because they have benefited from a service and want to give something back, others want experience of working in a hospital environment to help their career.  Volunteering will help you use and develop your skills, and give you the chance to network socially. Many of our volunteers feel rewarded when they see how their contribution makes a difference to both patients and staff.
How do I apply?
When the recruitment round opens in January 2020 you will be able to see what opportunities are available and apply online by clicking here – please note this link will not take you to more information until recruitment opens.
Please note our recruitment process does take approximately two months. 
---
If you have any questions about volunteering at York, Scarborough, Bridlington, Malton and Selby, please get in touch with us at volunteering@york.nhs.uk.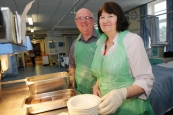 Volunteers fulfil a variety of roles with the purpose of enhancing patient experience