Volunteering
There are currently around 300 volunteers working for and with the Trust, either directly or through partner organisations.  Volunteers fulfil a variety of roles but their purpose is to enhance the patient experience. Although volunteers do not perform any clinical roles, they are able to get some hands on experience of what it is like to work in a hospital environment and to work alongside hospital staff.
How much time do I need to volunteer for?
You can give as little as a few hours for a day or as much as several days a week. We do ask that volunteers are committed to volunteering with us for a minimum of 6 months.
Are there any age restrictions?
Volunteering is open to any one who is aged 16 and above. Some age restrictions may apply on certain wards.
What are the benefits of volunteering?
People often say they volunteer because they've benefited from a service and want to put something back. Some people say that volunteering had been a positive experience which helped them to develop skills that were useful in gaining employment. Others enjoyed social networking and made friends or said that it was rewarding to see how their small efforts made a difference both to patients and to staff.
Please be aware that to volunteer with the Trust you will have to provide two references and undergo Disclosure and Barring Service and Occupational Health checks. This can take several weeks and we therefore hope that volunteers will make a longer term commitment of 6 months.
What opportunities are available?
To find out more about what opportunities are available to volunteers across the Trust click here.
---
The application process
If you are thinking of applying to join us as a volunteer, the Trust now advertises volunteering opportunities at certain times throughout the year. The next cohort for recruitment will commence on Sunday January 27 2019.
Once the recruitment peirod opens, you can apply to volunteer with us through our on-line application process.
You will be asked to provide the names of two references who can provide you with a reference one from your latest employment, college or university or anywhere that you have volunteered with in the last three years.
Once you have submitted your application and we have read it (normally within two weeks) will email you to ask you to book an appointment to meet with us to discuss your application further with a member of the Volunteer Service Team.  You will be able to do this through the on-line system.
We will then write to you to let you know if there are any suitable volunteering opportunities available.  You will be required to complete further documentation including a DBS application through our on-line system and an Occupational Health assessment.
Volunteers will then be invited to attend the Trust's corporate induction day before starting their volunteering role. On the day you will cover the following:
Infection Prevention and Control
Safeguarding Adults and Children
Fire Safety
Information Governance
All volunteers are required to attend a Dementia Awareness session.  Dining companion volunteers and dementia activity volunteers will have additional training relevant to the role before starting and all volunteers will be given the opportunity to shadow existing Volunteers.  Further information will be given when we meet you.
---
Contact details
If you have any questions about volunteering at York, Scarborough, Bridlington, Malton and Selby, please get in touch with us at volunteering@york.nhs.uk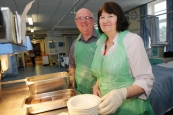 Volunteers fulfil a variety of roles with the purpose of enhancing patient experience