Staff Benefits and Wellbeing
Family Car Lease Scheme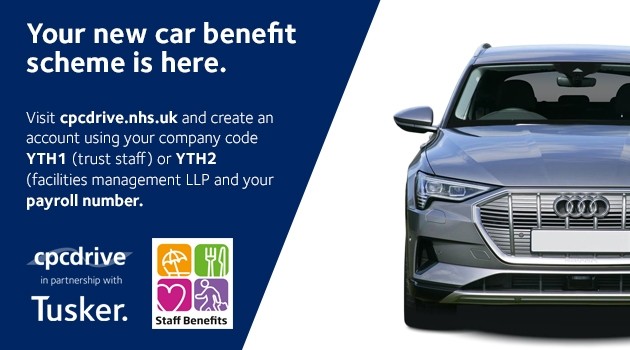 ---
Due to circumstances beyond  the control of CPC Drive lead times of vehicles can be upwards of 30 plus weeks. 
Some of the issues causing this are:
Covid restrictions in the car manufacturing plants
Staff still being furloughed in the car manufacturing plants 
Global microchip shortage putting a hold on vehicles being made 
The UK no longer being in the EU.
Please be aware of this if you are due to renew an existing vehicle lease or if you require a car sooner.
---
A brand new car with a cherry on top…
We're on a mission to help everyone, everywhere drive a better car. A new, more cost effective, reliable and greener car.
We think the old way of buying and running a car is a bit mad. Going to a car dealer, paying through the nose and then all the admin hassle of organising things like servicing, road tax and insurance.
A car from CPC Drive is better value for money because all the hidden costs, from servicing to road tax, are included in a single monthly amount – a brand new car with the cherry on top! You also get a better service because we take care of all the admin for you.
With everything from the smallest city car, to the largest MPV, CPC Drive have a range of cars to suit every requirement and budget.
And, with a huge range of electric vehicles now available to custom-order or from our stock, you could be driving a brand new car, while saving money, sooner than you think. Plus there are huge savings with 1% Benefit in Kind in tax year 2021-22 for all electric vehicles.
A CPC Drive car includes
No deposit
Exclusive manufacturer discounts
Routine servicing and maintenance
Replacement tyres
Fully comprehensive motor insurance including business travel
Annual road tax
Prepare yourself an online quote and see the full range of cars available by visiting cpcdrive.nhs.uk using company code YTH1 (trust employees) and YTH2 (facilities management LLP) and your payroll number
Need help or advice?
For more information, call us on 0333 400 7431 or email EET@tuskerdirect.com.
To add business insurance for you or any other named driver please call CPC Drive/Tusker Directly
---
For more information on the Car lease scheme checkout the following links:
What is Benefit in Kind? https://www.youtube.com/watch?v=KMAQ624Kjwk –
Tusker - The most cost effective way to drive an electric car - https://www.youtube.com/watch?v=RO5dEykYW6M
Ordering your car with Tusker - the complete life cycle - https://www.youtube.com/watch?v=MZ-TxRvUwTo
Click here to see more about getting a home charge point fitted
Click here to look at the leaflet for more information on the Benefit in kind information on the car salary sacrifice scheme 
Need help you can always contact your Staff Benefits team on 01904 721170 or 01904 724099
---
Click here to return to the main Staff Benefits menu.