Information
Mental Health
Five steps to wellbeing - caring for you 
Good mental wellbeing is just as important as good physical wellbeing. Just like the 'five a day' foods, evidence suggests there are five steps we can all take to improve our mental wellbeing. 
We have created a booklet, Five Steps to Wellbeing, to help you stay well with some straightforward principles  - Connect, Be Active, Take Notice, Learn and Give. Simple things we can do in our everyday lives.
Request your own copy of the Trust's Five Ways booklet to improve your wellbeing at your fingertips. Email psychologicalwellbeingteam@york.nhs.uk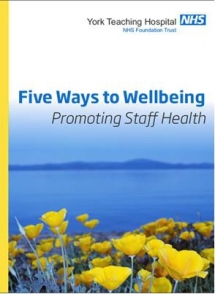 Anxiety and depression
Whatever you need to know about coping with stress, anxiety or depression, or just generally improving your emotional wellbeing, the NHS Choices Moodzone can help. It offers practical, useful information, interactive tools, and videos to support you on your way to feeling better.

A-Z of mental health
If you have concerns about any aspect of mental health the Mind website has an amazing array of resources to help people understand and cope with mental health problems.Click here to view the list
Guide to Mental Health and Wellbeing available in York.
to access the guide click here.
---
Wellbeing support services
A variety of support for better mental and physical health is available in the Trust.
Click here to download our handy leaflet.
Useful links:
---
Drugs and alcohol support

Local support:
Lifeline York: 01904 464680    
Mon and Thurs 11:00 – 19:30hrs, Tues, Weds, Fri – 09:00 – 17:00

 North Yorkshire Horizons Scarborough: 01723 330730    
Mon, Tues ,Weds, Thurs 09:00 – 17:00, Fri  09:00 – 19:30
National Support
Support for families: 
---
Fast Track Physiotherapy for Staff
www.yourphysio.org.uk provides help and information to assist you in the early management of common injuries and pain problems.
Also offers detailed guidanceon living with a long term condition such as
osteoarthritis.The second aim of the website is to promote and support long term musculoskeletal health.You will find lots of information and resources on the website to help you get and stay active, stay healthy at work,and manage your physical health alongside your mental health.
Staff can access fast track physiotherapy by completing  a self refer form: Download self referral form here. or the self-refer option on the
Your Physio website ensure you put on the form that you are YH staff.
---
Counselling service - Confidential Care (CiC)
Your free and confidential information, support and counselling service available 24hours a day, 7 days a week, 365 days a year.
·       Debt and financial management
·       Legal and tax advice
·       Everyday matters
·       Family care
·       Counselling and emotional support
This service is completely confidential and your details are not shared with your employer. In rare cases where it is thought a person may be at risk of harming themselves or others, this confidentiality may need to be broken. All CiC counsellors are accredited or registered with BACP or equivalent professional body.
Your calls are not discussed with your employer however provide general statistics are given to the occupational health services team
How to access this service
Telephone: 0800 085 1376
Email:assist@cic-eap.co.uk
Text relay: 18001 0800 085 1376
(for people with hearing or speech impairments)
Online and live chat: Well-online.co.uk
User name: yhlogin
Password: wellbeing
Click here to return to the main Staff Benefits menu.