Information
Mental Health
Five steps to wellbeing - caring for you 
Good mental wellbeing is just as important as good physical wellbeing.  Just like the 'five a day' foods, evidence suggests there are five steps we can all take to improve our mental wellbeing. 
We have created a booklet, Five Steps to Wellbeing, to help you stay well with some straightforward principles  - Connect, Be Active, Take Notice, Learn and Give. Simple things we can do in our everyday lives.
Request your own copy of the Trust's Five Ways booklet to improve your wellbeing at your fingertips. Email psychologicalwellbeingteam@york.nhs.uk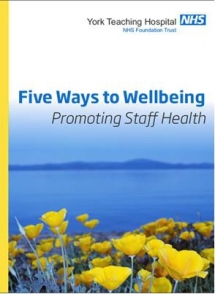 Anxiety and depression
Whatever you need to know about coping with stress, anxiety or depression, or just generally improving your emotional wellbeing, the NHS Choices Moodzone can help.  It offers practical, useful information, interactive tools, and videos to support you on your way to feeling better.
A-Z of mental health
If you have concerns about any aspect of mental health the Mind website has an amazing array of resources to help people understand and cope with mental health problems.Click here to view the list
Guide to Mental Health and Wellbeing available in York
to access the guide click here.
---
Wellbeing support services
A variety of support for better mental and physical health is available in the Trust.
Click here to download our handy leaflet.
Useful links:
---
Drugs and Alcohol support
Local support
Lifeline York: 01904 464680    
Mon and Thurs 11:00-19:30, Tues, Weds, Fri 09:00-17:00
 North Yorkshire Horizons Scarborough: 01723 330730    
Mon, Tues ,Weds, Thurs 09:00-17:00, Fri 09:00-19:30
National support
Support for families
---
Fast Track Physiotherapy for staff
www.yourphysio.org.uk provides help and information to assist you in the early management of common injuries and pain problems.
Also offers detailed guidance on living with a long term condition such as osteoarthritis.  The second aim of the website is to promote and support long term musculoskeletal health. You will find lots of information and resources on the website to help you get and stay active, stay healthy at work and manage your physical health alongside your mental health.
Staff can access fast track physiotherapy by completing  the self-refer option on the Your Physio website ensure you put on the form that you are YH staff.  Please note all appointments will be at York Hospital.
---
Employee Assistance Programme (EAP)
Health Assured, our EAP, offers free 24 hour advice and counselling to employees of York Teaching Hospital NHS Foundation Trust, 7 days a week, 365 days a year.
Issues include family matters; stress and anxiety; relationship issues; domestic abuse; bereavement;  family care; debt and financial issues; tax information;  housing concerns; medical information; consumer issues; legal advice; drug and alcohol issues; gambling issues; retirement and manager advice. 
Call Freephone: 0800 030 5182
Click here to read the latest health and wellbeing newsletter
---
Guidelines of Support for Colleagues of Members of staff who die in Service/or who are seriously ill
Suggestions of what the Chaplaincy Team can offer colleagues:-
When you are informed that a member of staff has died, or is seriously ill contact the chaplain on duty, to discuss an appropriate response.
Possibilities:-
It may be appropriate to ask the chaplain to come to the ward/department to offer support and a listening ear – either immediately as people are told, or later at a mutually convenient time.
The chapel could be used, for example, over a lunchtime, to be open for those grieving to simply come and 'be', to perhaps light a candle in their own time, and perhaps to write a book of condolence/or write a prayer or card if the person is seriously ill. The chaplain can simply be present in the background to offer support if needed.
The chaplaincy can provide a book of condolence that could be kept in the chapel for people to sign, next to a candle, over a few days. Or if appropriate the book of condolence can be kept on the ward/department.
This book /or card if seriously ill, could then be passed on to the relatives of the deceased/injured.
Ongoing support can be given by the chaplain to any members of staff needing support.
If the member of staff belongs to one of the 'world faiths' other than Christianity, the chaplains can contact colleagues of other faiths to offer support. Please note that no one needs to 'be religious' to be offered chaplaincy support.
Possibilities at a later date:-
There is a memorial garden near the main entrance where names of staff who have died in service can be engraved. The chaplains could be involved in saying some words in memory of the member of staff in the garden memorial space.
The chaplaincy team could be involved in a memorial service in the chapel for the member of staff, if the relatives would like this to happen.Please note these are simply possibilities – if there is any help you require that is not covered above –please contact us for a discussionChaplains :
Rachel Bailes     725579Or ask switchboard to page the on call chaplain
Louise Grosberg 725678
---
Staff Memorials
York Teaching Hospital NHS Foundation Trust is committed to celebrating the life and work of those who have died in service.
This can help the process of grief and be a positive way of remembering people whos death is sudden or unexpected. For more information on how to do this and what is a vaoail please click here
"Good mental wellbeing is just as important as good physical wellbeing"
Click here to return to the main Staff Benefits menu.