Coming into hospital
Admission as an inpatient
On admission you will be given a wristband to wear while in hospital. Staff should check your wristband and ask you to confirm your identity.
Consent
We always ask for your consent prior to treatment which will include an explanation of what is proposed and the risks, benefits and any alternatives. If you have any concerns please direct these to a member of staff in the area you are receiving treatment.
Next of kin
While you are in hospital we may need to communicate with your family/friends. We will need to know your next of kin or main contact to speak to about your care. If there is anyone you would like us to contact please let us know.
Identifying ward staff
All staff wear a hospital ID badge displaying their name and job title. Most hospital staff wear a uniform. All staff should introduce themselves and the purpose of their visit to you. Please ask if you want to know more about a person's role.  
Ward routines
When you arrive at the ward, you will find a booklet on your bedside locker describing the day-to-day routine of the ward along with further information about your hospital stay.
Not every ward is the same however most wards have a mixture of single rooms and bays. Each bay ha a tiolet and washbasin and every ward provides bath and shower facilities.
Each ward will have a slightly different routine, but we have listed some of the general points here.
Visiting times
For visiting times and information, please visit the page of the hospital you are visiting. 
For more information about hospital visiting please download our Visitors Code.  
Meal times
Meal times may vary during your stay in hospital, but they are usually at the following times:
Breakfast - 7.30am to 9am
Lunch - 12 noon to 1.15pm
Supper - 4.30pm to 6pm
Catering
Our menus offer a range of dishes designed to meet different tastes and dietary needs. We always offer a vegetarian option. If you need a special diet for religious or other reasons, we can provide this for you.
If you require any assistance about diet please ask the ward staff to contact the Catering Manager or Dietitian.
On the menu, there are letters by each meal to show which diets are suitable for you, for example, LF = low fat and D = diabetic. We serve hot drinks during the morning, afternoon and evening and after each meal.
Unfortunately, we do not have fridges which you can use, so please ask your visitors not to bring you any food which will go off.
Trolley Service
A trolley selling newspapers, magazines and confectionary visits the wards most days.
Cleaning
Every day a cleaner is allocated to the ward. Litter bins are provided and and there are recycling bins on each ward for newspapers and glass.
We strive to achieve high standards of cleanliness and our service is constantly monitored to ensure this. We welcome comments and feedback from you during your stay.  
Noise
Whilst there is always a certain amount of noise in the hospital our staff do try their best to keep noise levels as low as possible. Most people experience no problems and are able to sleep, but if you have any concerns, please discuss these with nursing staff. We ask patients to be considerate to others and keep noise for a minimum.
Night Owl Project
In response to feedback York Teaching Hospital NHS Foundation Trust pledges to reduce noise on our wards to help our patients get a better night's sleep.
If you are having any trouble sleeping because of noise please let a member of ward staff know.They can provide you with a Sleep Pack which includes a pair of ear plugs and an eye mask.
Same sex accommodation
The Trust has a commitment to the promotion of same sex accommodation and privacy and dignity for all patients.
Ensuring patients' privacy and dignity is maintained and that men and women are not placed in sharing sleeping accommodation is a key indicator in relation to the quality of care that the patient receives in our hospital.
Moving to a different ward
There may be occasions when you will be asked to move to another area of the hospital (or another hospital), either because your care needs have changed or you are almost ready for discharge.
In order to accomodate all of our admissions, we sometimes need to move patients to a different ward within the hospital. Additionally, this ensures that patients with changing conditions are cared for on the most appropriate ward.
We do try to keep this a minimum and the decision is made by the team of doctors and nurses.
The majority of patients who move wards continue to be under the care of the same consultant. Nursing staff handover care to the new ward, ensuring that all information and belongings are transferred to the new ward.      
Fire precautions
For safety reasons we test the fire-alarm systems regularly. If the alarm rings please follow the instructions of the ward staff.
Smoking
Under UK legislation, smoking is not allowed anywhere on our hospital premises or grounds other than in the designated smoking shelters. If you wish to smoke please ask the advice of the nursing staff.
Please note that council litter inspectors patrol the area around our hospitals and will impose fines on those who have not carefully disposed of their litter.
If you would like help in stopping smoking please discuss this with nursing staff or contact the NHS Quitline on 0800 1690169.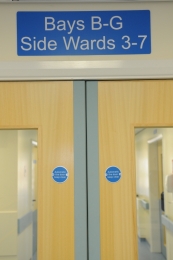 When you arrive at the ward, you will find a booklet on your bedside locker describing the day-to-day routine of the ward along with further information about your hospital stay.