Infection Control

One of the most worrying issues for hospital patients and their relatives is infection, and it is always in the news. Here is some information about the different infections, what the hospital is doing to reduce them, and how patients and visitors can help.
What infections are we talking about?
When people talk about hospital acquired infections they usually mean MRSA or Clostridium difficile.
What is the Trust doing?
Widespread activity is taking place across our hospitals to reduce infections and make the environment in wards and clinics as safe as possible for our patients, focusing on prevention, practices and procedures. Read more about what we are doing here.
Hand hygiene
This is one of the most effective ways to prevent the spread of all infections. York Hospital is a pioneer site for the national 'clean your hands' campaign. Weekly hand hygiene observation monitors how well staff are doing.
Your help is equally important in helping reduce the spread of hospital infections.Please follow the links below for tips on good hand hygiene practice.
Handwashing video
We have produced a detailed step-by step video guide to handwashing to help you improve your hand washing technique.
Multi-resistant bacteria

Multi-resistant bacteria are a group of germs that do not respond to some of the antibiotics that we commonly use to treat infection. Bacteria or germs are normally found on everyone both inside and outside the body and often live harmlessly inside your nose, mouth and on your skin. If they get into the wrong place at the wrong time, they can cause an infection. Being multi-resistant can often make them harder to treat.
Norovirus
Norovirus is part of a group of viruses that are the most common cause of gastroenteritis (upset stomach) in the UK. It is also called the 'winter vomiting virus' because people usually get it during the winter months. Follow this link for advice and more information about Norovirus.
Ward closures

Sometimes we choose to close a ward as a precautionary measure to prevent the spread of infection. If you suspect a ward you are visiting may be closed, please ring in advance to check.
Policies
A list of our infection prevention policies are available here.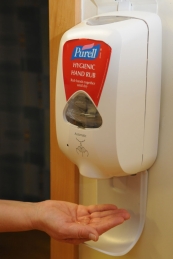 One of the most worrying issues for hospital patients and their relatives is infection, and it is always in the news.