MRSA
MRSA (sometimes referred to as the `superbug`) stands for Methicillin-Resistant Staphylococcus Aureus (MRSA). MRSA is a bacterium from the Staphylococcus Aureus family.
About one in three of us carry MRSA on the surface of our skin, or in our nose, without developing an infection. This is known as being colonised by the bacteria. However, if MRSA bacteria gets into the body through a break in the skin it can cause infections such as boils, abscesses, or impetigo (a bacterial infection of the surface of the skin). If it gets into the bloodstream it can cause more serious infections.
To read more about MRSA please follow the links below:
MRSA screening of elective and emergency admissions
York Teaching Hospital NHS Foundation Trust has in place and is compliant with its Methicillin Resistant Staphylococcus aureus (MRSA) screening policy.
This is one of many ways the Trust is working to reduce the risk of hospital acquired infection to people who come into our hospitals.
Early identification and treatment of people who harbour MRSA on their skin or nose without harm, and are not always aware of it, reduces the risk of spread and infection.
Any elective patient within the mandated screening groups coming into our hospitals will be offered screening. This is a simple skin swab and our staff will be able to answer any questions you may have.
An information leaflet explaining the screening process is available to download here.
A leaflet explaining the treatment offered for MRSA prior to admission is also available to download here.
The Trust's MRSA policy can be downloaded here.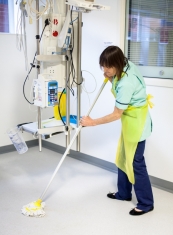 MRSA is often referred to as the hospital superbug it stands for Methicillin-Resistant Staphylococcus Aureus (MRSA).