What is the Trust doing?
Infection prevention is a top priority for everyone at the Foundation Trust but we need everyone to recognise their responsibilities as staff, patients and visitors.
Widespread activity is taking place across York Hospital to reduce infections and make the environment in wards and clinics as safe as possible for our patients, focusing on prevention, practices and procedures. This includes:
disinfectant hand gel at every bedside

screening of high risk patients for MRSA before they come into hospital for a scheduled operation. This will be extended to all patients by 2011

an in-house Domestic Service team

disinfectant hand gel dispensers at the point of care

adopting a policy of 'bare below the elbows' for staff working in clinical areas as this helps effective hand hygiene

screening any elective patient within the mandated screening groups for MRSA. More information on screening is available here.
The Chief Nurse of York Teaching Hospital NHS Foundation Trust is designated as the Director of Infection Prevention and Control (DIPC), a role outlined in the Hygiene Code 2006 (revised 2009). The DIPC produces an annual report, our most recent report can be accessed here.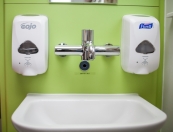 We are working hard to prevent infection in the hospital, but patients and visitors, as well as staff, can help us reduce infection risks.