Bank Staff
Nurse Bank (including Midwifery)
We frequently advertise using NHS Jobs for bank only Staff Nurses, HCA's and Midwives, please keep checking for new adverts. If you are a specialist nurse please call the office for a conversation.
---
What are the benefits of joining the Nurse Bank?
Competitive rates -  Bank workers receive an additional 5% on top the standard NHS AfC rates*
Weekly pay
Enhanced pay -  AfC enhancements are paid for unsocial hours, nights, weekends and bank holidays
Annual leave premium -  12.03% is applied to the basic rate for all shifts worked**
Flexibility  -  Bank workers can choose to work in a variety of wards and departments. They can also pick the shifts to suit them
Access to shifts  -  Bank workers can book shifts directly from home through laptops, desktops or mobile devices via Employee Online (EOL)
The Trust's Nurse Bank covers:
York Hospital
Scarborough Hospital
Bridlington Hospital
Malton Hospital
Whitecross Court
St Helen's
The New Selby War Memorial Hospital
St Monica's Hospital
The service also covers a number of community services.
For more information please contact the Nurse Bank office directly:
Phone:        (01723) 385343
Email:         nurse.bankmailbox@york.nhs.uk
*Please note that the incentive paid is 4.96% above standard AfC rates, it has been rounded up for illustrative purposes
**Please note that the annual leave premium paid is 12.07%, it has been rounded down for illustrative purposes
---
How to apply for the Nurse Bank
If you are looking to join the Bank at York Teaching Hospital NHS Foundation Trust and hold a professional registration for roles such as staff nurse, scrub nurse, ODP, midwife or equivalent roles, please apply here. 
Any questions please contact the Nurse Bank Team on 01723 385080 or 01723 236301.
---
How to apply for the Nurse Bank - substantive staff
As a substantive member of staff there is a simple application process to join the Nurse Bank. We would encourage all new starters to consider joining the Trust's Nurse Bank services, which will be necessary if you wish to undertake additional hours in excess of 37.5 per week.
You can download an application form from Staff Room by using the following link:
http://staffroom.ydh.yha.com/HR-and-Recruitment/nurse-bank/joining-the-nurse-bank
Anyone interested in Medical Locums should contact the Rota Co-ordination Team on 01723 342180 (Scarborough) or 01904 721415, 721416 or 721178.
Recruitment to 'as and when' positions in all other staff groups would take place via the normal recruitment procedure, with vacancies being advertised on the NHS Jobs website in the first instance.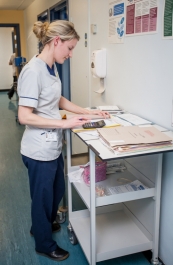 For further information or an application form contact the Nurse Bank Office on 01723 385343 or via email through the nurse bank mailbox.