Your Child's Hospital Journey
What to expect at your appointment?
The children's therapy team are offering video consultations to children and families who have been identified by their therapist as someone who may be suitable for this type of appointment.
Video consultations allow children and families to consult with their clinician remotely through a video feed on their devices, including phones, tablets, laptops and desktop computers.  The technology offers greater choice and flexibility for children and families for some of their appointments and reduces the need to travel. 
For more information on video appointments please click here.
If we unable to provide the relevant support via video consultation, then a face to face review may be offered in the most appropriate venue. A virtual appointment may be organised ahead of the face to face review to minimise contact time.
Please be assured all staff adhere to NHS England advice regarding infection prevention and control in relation to COVID-19 in order to ensure safety of all parties. For all face to face appointments the therapist will be wearing PPE, so you may wish to prepare your child for this.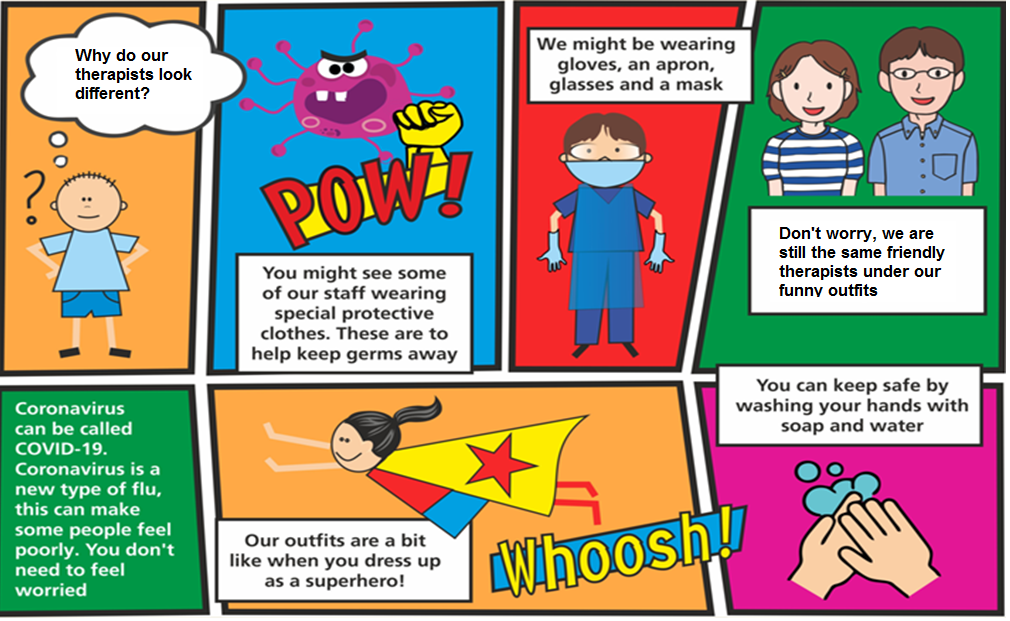 ---
Your Initial Appointment
During the initial appointment, the therapist will gather further information about your child or young person and your family, to gain a better understanding of your child's current development and the nature of your concern. They will also ask for some background information. This will include birth details, any health issues, your child's general development and family history. They will record all this information.
If the child is young, the child will be able to play while the therapist gathers this information. If they are older, the therapist may talk to them about what they think their difficulty is, if any.
---
Assessment
During the assessment process, the therapist may use a variety of different methods to assess your child's relevant skills. These may include observing your child playing with toys, looking at pictures, formal assessments or undertaking physical activities.
The therapist may also talk to your child's nursery/playgroup, or school teacher, to get a clearer idea of how your child is functioning within their setting.
---
Discussion
Following the assessment, the therapist will discuss their findings with you and possibly with other professionals involved, for example preschool or school staff, and explain their conclusions. Part of this discussion will include what intervention, if any, your child needs and who will carry it out.
If needed a report will be written and sent to you, the person who referred your child, and with your consent, to any other professionals involved, such as the school, Health Visitor or GP. The report will state the therapist's conclusions and give advice and recommendations for supporting your child's development.
---
What happens next?
Depending on your child's needs and difficulties, one or more of these options may be selected, through discussion between you and the therapist:
advice and support on the management of your child's difficulties
a programme of activities to carry out at home
a programme of activities to be carried out in school or preschool setting
training of yourself or other professionals to meet your child's needs and their long term conditions
a review to check your child's progress after a few months
a block of regular individual or group therapy sessions
general advice and discharge from the Children's therapy team.
referral to a more appropriate service, this may include another member of the Children's Therapy Service.
If your child needs support from more than one type of therapist we will try to combine appointments to make access easier for you and the child /young person.