Special Care Baby Unit at York Hospital
The Special Care Baby Unit at York is a level two unit offering two intensive care cots and thirteen special care cots (two with high dependency status). The unit admits approximately 375 babies per year. We offer conventional ventilation, parenteral nutrition and head ultrasound service in addition to standard care as part of the Yorkshire Neonatal network. In accordance with network policy we transfer babies out if under 26 completed weeks gestation for tertiary level care and if we feel appropriate/needed for other reasons, for example under approximately 800g weight or paediatric surgery. We have strong links with units in Leeds, Sheffield and Middlesborough.We have two dedicated neonatal outreach nurses to visit babies and families at home after discharge providing medical advice as well as emotional support. We have parental accommodation on site and a very active and well resourced parents support group and fund raising team. The unit scores persistently well on parental feedback surveys in all areas but is noted to be particularly friendly and relaxed.
Meet the team
Ann Elliot
Ward Sister
Bernie Wood
Specialist Community Nurse for SCBU for the York area
Carol Bellamy
Specialist Community Nurse for SCBU for the Selby area
How to find us
The entrance to the Special Care Baby Unit is via the maternity unit entrance which is situated behind the main hospital. It is reached by turning off Wigginton Road a little further along from the main entrance as you come from the city centre. There is no access from the main hospital unless you are visiting via the maternity wards.
More about the unit
The unit has been purpose built and provides care for up to 15 babies. Two of our cots are dedicated for intensive care provision; the remainder are used for high dependency and special care needs of the babies in our care. The care is provided by a consultant directed team of expert medical and nursing specialists trained in this field of medicine. Other supporting members of the team include physiotherapists, technicians from the x-ray, hearing an eye departments, pharmacists, a patient affairs officer, medical social workers, the hospital chaplain and the Special Care support group members.
Surgery is not performed in this hospital on babies. If this is required it will be undertaken at one of the local regional units by a paediatric surgeon.
Our philosophy
Our philosophy is to maintain a safe environment, and one which encourages the highest standard of skilled, compassionate care for your baby. An environment which encourages the relationship between parents and their baby and promotion of the family unit.
Reasons for admission
The majority of babies admitted to SCBU are premature at less than 36 weeks gestation.
There are other reasons which may also require a baby to be admitted, for example;
Babies whose birthweight is less than 2.4kg or 5lbs 4oz
Babies who have breathing problems or appear unwell at birth and who may require oxygen therapy and/or assistance with breathing from a ventilator
Babies where there is a risk of infection, most commonly when the membranes have ruptured (waters have broken) more than 24 hours before delivery
Babies whose jaundice requires further investigation and/or specific treatment
Babies with feeding problems including a low blood sugar result
Babies of diabetic mums who are on insulin
Any baby on the delivery or the post natal wards whose condition is a cause for concern and who may require further investigation or treatment.
Visiting
Parents are always welcome on the unit, day or night, their contact is vital to the well-being of the baby. Open visiting is also available for brothers, sisters and grandparents. Each day between 1.00pm and 2.00pm has been designated a 'quiet period' when the lights are dimmed and noise and activity in the area near the babies are kept to a minimum, with the exception where very ill babies need continuous care and attention. We suggest that just parents and siblings visit at this time.
On the unit there are a selection of toys and booklets to entertain your older children when they visit. We do request, please, that your children are supervised/controlled at all times whilst visiting the unit.
For your comfort it is advisable for you and your family to wear loose and comfortable clothing as the unit is a very warm environment.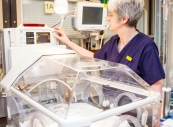 Contact
01904 726005