Research studies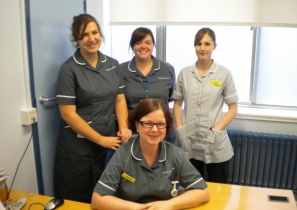 Above: Sophie Birch (Core Research Nurse), Helen Bickerdike (Research Nurse), Lisa Carr (Rheumatology Clinical Trials Assistant) and Anne Gill (Research Nurse).
We are involved in a number of local, regional, national and international research studies.
You may be asked whether you would like to participate in one or more of these studies.
The York Rheumatology department has an expanding research portfolio. The research allows doctors and patients to gain access to and experience new cutting edge treatments. The research undertaken contributes to the development of our understanding of rheumatology conditions and the optimal management of our patients.
Our portfolio includes different types of studies at different stages of the research, varying from Observational studies to Clinical Trials of Investigational Medicinal products. Almost all of the research we do involves licensed and approved treatments for arthritis, but looks at using them differently or sometimes earlier looking to improve outcomes for patients. We are starting to get involved in studies using treatments not yet licensed in the UK. We hope this will allow patients in York to gain from exciting research developments in the world of rheumatology.
There are several reasons why patients may benefit from taking part in research including:
A new treatment may be effective in treating the condition improving day to day life.

May gain earlier access to treatment than those being treated routinely.

Participation in a Clinical Trial may bring benefit to others in the future.

A feel good factor that taking part in research may help find a cure for the disease.

May meet others suffering from the same disease whilst taking part in research. Talking with other patients experiencing similar health problems can be beneficial.
---
Within the York Rheumatology Research Team we have the following members:
Consultants

Research Nurse

Clinical Trials Assistant

Rheumatology Specialist Nurses

Rheumatology Specialist Registrar

Rheumatology Coordinator