Rheumatology outpatient clinics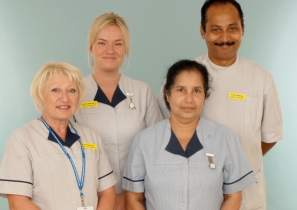 Above: Sue, Marta, Elsa and Simon.
Usually on your first visit to the Rheumatology Department, you will be seen by one of the consultants in a 'general' new patient clinic.
Depending on the diagnosis or treatment, you may be discharged back to your general practitioner or offered a subsequent appointment to be seen in a general or specialist clinic or by another member of rheumatology medical, nursing or allied health professional team.
Our specialist clinics include the following:
Early Arthritis Clinics for new and returning patients with early inflammatory arthritis, such as rheumatoid arthritis, which run weekly.
Ankylosing Spondylitis Clinics for patients with ankylosing spondylitis or spondyloarthropathy providing specialist medical and physiotherapy assessment and management, which run bi-monthly.
Connective Tissue Clinics to provide specialist assessment of patients with conditions such as lupus, scleroderma and vasculitis, which run monthly.
A weekly Ultrasound Clinic, which provides the opportunity for further imaging assessments of joints within the rheumatology clinic setting, for example in the assessment of inflammation activity in rheumatoid arthritis.
Injection Clinics run twice weekly to administer local joint and soft tissue therapeutic injections.
Drug assessment and disease monitoring clinics which are run daily by our Specialist Nurses, to assess the safety and efficacy of therapy.
A weekly Research Clinic for patients involved in clinical trials.