Single Point of Access into Adult Community Services
In April 2014 Single Point of access into Adult community services (SPA), a new call centre service to support easier access into the Community Services Community Nursing Team, was launched
York Ambulance Service (YAS) were commissioned to run SPA back in April 2014 when the service initially went live. However, it was taken back "in house" by York Hospital Foundation Trust in December 2015. 
The SPA manages adult community nursing referrals across York, Selby, Scarborough and Ryedale localities. 
The key objectives of the call handling service is to ensure the seamless, safe management of referrals for patients requiring Adult Community Nursing Services, either to potentially prevent an admission, support early discharge or coordinate care 'closer to home'.
The SPA service can be contacted via telephone on  01904 721200.  This applies to the period Monday – Friday (0800-1800), excluding Bank Holidays. 
For any queries regarding the SPA service we have developed a Q&A fact sheet (see below) which may help to answer any questions that you might have. We have also included an aide memoir for you to refer to.
If you have any further questions please do not hesitate to contact the SPA operational lead Rachel Anderson on 01904 721200.
SPA Q&A.pdf 
Referrals to Community Therapy Services
Significant work has been undertaken to standardise and stream line community therapy services so that therapies respond in a timely and appropriate manor to patients needs.
From 1 June referrals to Community Therapies teams in all localities (Ryedale , York, Selby, Malton and Scarborough) will require a completed referral form to be faxed or sent to the relevant office.  
Incomplete referrals may be rejected with request for more information. Telephone referrals can only be accepted for urgent same day referrals.  
Please note that referral routes for Intermediate Care, York Fast Response and District Nursing Single Point of Access remain unchanged and are not acceptable routes for Community Therapy referrals. 
If you have any queries or concerns about this new process please contact Rachael Smye, Community Therapies Clinical Manager on 07770981393 or rachael.smye@york.nhs.uk
Community Rehabilitation Access Routes.doc (124
Community Therapy Referral Form_ 280514
Therapy Referrals flow chart_3 June 2014.pdf (9.2KB)
---
Community Response Team Referrals
As part of the development of Care Hubs, being piloted in Selby and Ryedale to provide alternatives to hospital care, two new Community Response Teams have been launched.
Click here for referral forms and information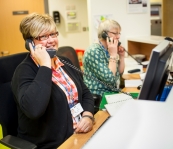 The SPA service will go live on Monday 7 April 2014 at 8am with a new telephone number 0300 330 5444.