GP Training Scheme

The York GP Training Scheme has been running for over 30 years, being one of the original British training schemes, and so it has a wealth of experience to offer aspiring young General Practitioners.
The scheme is centred on York but runs into some of the attractive surrounding villages. It also stretches North into the moors to the charming market town of Kirkbymoorside, South to Selby and East to Malton.
York VTS has a long tradition of excellence and innovation. There are a variety of posts to suit all learning needs. The excellent facilities of the York District Hospital offer a wide variety of GP-training hospital posts, providing a combination of good experience and teaching.
There are over 30 varied practices to choose from in all sorts of locations. Over the years the scheme has carefully established training practices in and around the area of York, with the specific purpose of offering our trainees a rich and mixed experience of General Practice as part of their training. From this, all trainees have the opportunity to work at three different GP practices.
For further details about the York GP training scheme follow this link.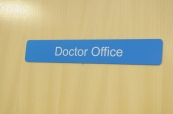 For further details contact us direct at the Postgraduate Medical Centre at York Hospital on either (01904) 725625 or 726572.