North Cliff Golf Club raises £650 for the SCBU at Scarborough Hospital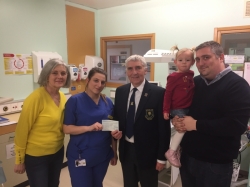 Thank you to Barry Poynter who chose the Special Care Baby Unit at Scarborough Hospital as North Cliff Golf Club's Charity of the Year during his time spent as Captain.
His granddaughter Isla spent her first few days of her life in the Unit and with the care of the wonderful staff, Isla was able to go home soon after.
Thank you to Barry and his family for the generous donation which will make a huge difference to patients and staff in SCBU.