Maternity Services
York Teaching Hospital NHS Foundation Trust provides midwifery care to women living in and around York, North Yorkshire, North East Yorkshire and Ryedale – an area covering 3,400 square miles.
Click on the links below to find out more about our maternity units and contact details:
---
Have you recently (in the last couple of years) accessed the homebirth service at any of our areas across York and Scarborough? Whether you had your baby at home, decided to birth in the hospital in the end, or were transferred in to the hospital for care during your labour, we want to hear from you.
Please complete our short survey and help us improve our services 
---
Access our online ante natal classes set in the maternity unit where our midwives and physiotherapists will tell you all about giving birth at York Hospital from early labour to what happens when you get home.
---
Useful maternity information and support groups
Follow this link to our information page for details of local groups, what to bring into hospital, maternity patient leaflets, useful websites and much more.
---
Maternity Transformation
York Teaching Hospitals NHS Foundation Trust is part of a developing Local Maternity System called 'Humber, Coast and Vale LMS', this includes York, Scarborough, Scunthorpe, Grimsby and Hull.
Humber, Coast and Vale Local Maternity System (LMS) have developed plans to;
Ensure the implementation of Better Births by 2021
Support the Secretary of State's ambition to reduce the rate of stillbirths, neonatal and maternal deaths and brain injuries by 50% by 2025
Implementation of the LMS plan will be managed through 5 work streams;
Multi professional working and governance
Promoting Safer Care
Choice and personalisation. Continuity of carer
Maternity Voices Partnership (MVP)
Perinatal Mental Health
The trust has member representatives on all of the work streams along with the Clinical Director (Miss Dean) and Head of Midwifery (Liz Ross) both sitting on the executive board of the LMS.
The LMS will produce a Local Maternity offer with and for service users to be aware of the choice available across Humber, Coast and Vale.
A Humber, Coast and Vale promotional film has been made to raise awareness and the profile of the LMS:
---
Improved Choice for Women
Did you know that as part of the Humber, Coast and Vale LMS you can choose where to have your care and give birth? Within York Trust you can choose York or Scarborough Hospital, or Home Birth for low risk women. There are two other Trusts within the LMS, Hull and East Yorkshire and North Lincolnshire and Goole.
There are different services available in each unit and it may help you to view their websites listed below.
Hull and East Yorkshire-which includes the Fatima Allen alongside birth centre for low risk women
Maternity Services | HEY Hospitals NHS Trust
North Lincolnshire and Goole- Scunthorpe or Grimsby units
Maternity (obstetrics) - Northern Lincolnshire and Goole NHS Foundation Trust | Northern Lincolnshire and Goole NHS Foundation Trust
If you decide you would like to have your care or arrange to give birth in one of the other LMS units please ask your Midwife- we can help you arrange this.
---
Maternity Voices Partnership
York Teaching Hospital Maternity services are keen to work in co-production with women to develop maternity services to meet their needs.
The current Maternity Services Liaison Committee (MSLC) will be evolving into a Maternity Voices partnership as part of the Local Maternity System for Humber, Coast and Vale (York, Hull, Scarborough, Scunthorpe and Grimsby).  We also hope to develop a Maternity Voices partnership for the East Coast which currently does not have a service user forum.  We are keen that women who have used services in the last two years in any of the Trust areas become involved.
The work of National Maternity Voices partnerships can be seen here;
National Maternity Voices – Networking Maternity Voices Partnerships in England
As this develops we will add detail of the work being undertaken on this website, in the interim please feel free to get in touch via the details below to register your interest in being involved or give suggestions to how we can improve what we currently offer.
If you have recently used maternity services in the last 2 years and would like to contribute or be part of this group then please contact Liz Ross, Head of Midwifery on 01904 725343 or e-mail: elizabeth.ross@york.nhs.uk
'It's important we hear what women want and how we can develop our service to meet local needs and work towards national recommendations from the Better Births maternity services review 2016. Local women are encouraged to assist in shaping the delivery of maternity services to meet the needs of the local users'. 
Useful Links
We would love to know what you think about our online antenatal classes. To take part in a quick survey to let us know your comments click here. 
If you have any questions which are not answered in the online classes speak to your midwife.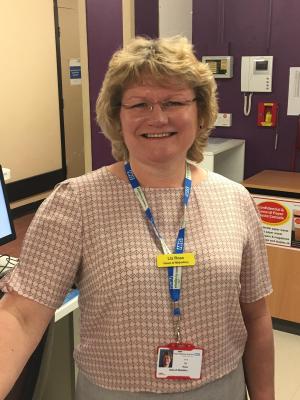 Liz Ross
Head of Midwifery
York Teaching Hospital NHS Foundation Trust