Psychological Medicine
Welcome to the Department of Psychological Medicine whose main base is at York Hospital, with a new smaller hub at Scarborough Hospital.
We are a modestly sized service comprised of clinical psychologists, counsellors and counselling psychology, whose focus is on the delivery of complex and tailored evidence-based psychological interventions for physically and medically ill patients.  Clinical psychologists in training from local Universities are frequently on placement with us and will also see patients.
We hold outpatient clinics at York, Selby, Harrogate and Scarborough hospitals and at our main department office, The Old Chapel, Bootham Park, York.  We also see in- patients at York Hospital.
The Department leads a number of Reflective Practice Groups with MDT staff to promote and enhance their psychological understanding and emotional responses to patients, and enable their clinical practice.  We also run regular experiential Sage and Thyme© courses for staff, to enhance communication skills.  Staff can access this via the Learning Hub. We have also developed Schwartz Rounds © which provide managed spaces for emotional processing, available to all Trust staff.  These are delivered bi-monthly in York and Scarborough Hospitals.
Training and teaching, audit and supervision are also regularly conducted.
We have formal academic links with York University and Hull University.
---
Services
Psychological Medicine is commissioned to provide psychological services to patients in the following clinical areas at our hospitals, via team referral.
Cancer
Cystic Fibrosis
Cystic Fibrosis Paediatric
Diabetes
Gastro
Neuro and Headache
Pain
Renal
We provide a service for Neuropsychology and Renal Psychology patients delivered at Scarborough Hospital.
We have a Psychological Medicine Administrative team based at our department hub in York.
---
Location
Psychological Medicine
The Old Chapel
Bootham Park
C/O York Hospital
York
YO31 8HE
Scarborough Hospital
Haworth Unit and Outpatients Department
Woodlands Drive
Scarborough
YO12 6QL
---
Contact
For more information about the service contact the Admin Team on 01904 725353
---
Meet the team
Name 

Title 

 Clinical Interest

Dr Veronica Oliver-Jenkins

Head of Department

Consultant Clinical Psychologist

Medical psychology/Cancer psychology

Dr Jo McVey

Consultant Clinical Psychologist

Dr Stephen Evans

Consultant Clinical Psychologist

Neuropsychology

Dr Lottie Cowell

Senior Clinical Psychologist

Neuropsychology - York and Scarborough

Dr Emily Thornhill

Clinical Psychologist

Neuropsychology

Dr Jess Brown

Principal Clinical Psychologist

Diabetes Psychology

Dr Beate Riedel

Principal Clinical Psychologist

Kidney Care and Cancer Psychology

Dr Phil Simpson

Principal Clinical Psychologist

Cancer Psychology

Dr Becki Lenton

Senior Clinical Psychologist

Staff Wellbeing and Cancer Psychology

Sarah Proud

Specialist Counsellor

Cancer Psychology

Dr Jo Cates

Specialist Locum Clinical Psychologist 

Cancer Psychology

Dr Emily Young

Principal Clinical Psychologist

Cystic Fibrosis Adult and Paediatric

Dr Sam Rankin

Principal Clinical Psychologist

Pain Psychology

Dr Laura Sweeney

Senior Clinical Psychologist

Pain Psychology

Dr Sally Philott

Consultant Clinical Psychologist

Long Covid Service

Dr Rose Hatton

Senior Clinical Psychologist

General Psychology

Dr Yvonne Doherty

Principal Clinical Psychologist

Staff Wellbeing

Dr Lisa Hinds-Green

Principal Clinical Psychologist

Staff Wellbeing

Dr Siobhan Walmsley

Principal Clinical Psychologist

Staff Wellbeing

Ruth Bulmer

Admin Manager

 

Joanne Barker

PA to HoS / Information Administrator

 

Jenny Danks

Administrative Assistant

 

Anita Hartley-Tate

Administrative Assistant

 

Debbie Postill

Administrative Assistant

Staff Wellbeing

Jo Varley

Administrative Assistant

Staff Wellbeing

Vicky Fleetney

Administrative Assistant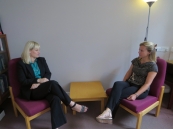 For more information about the service contact the Admin Team on 01904 725353