Buying and Selling of Annual Leave
All employees receive paid annual leave as set out in their contract of employment. The Buying and Selling Annual Leave Scheme allows employees the flexibility to alter that entitlement, either by buying some additional leave or selling some of their current entitlement. This scheme is all about giving staff some additional choice and flexibility to their reward benefits package.
Extra holidays may appeal for all sorts of reasons - the chance to spend more time with family, special holidays or time to complete a special project. Alternatively, if employees wish to use less than their full leave entitlement, this scheme gives them the opportunity to exchange some of it for extra salary.
Applications to apply to either buy or sell annual leave scheme opens early each year for the following leave year.
Applications for 2021/2022 NOW CLOSED
Under no circumstances will any applications received after the cut of date be considered. Please note all parts of the form must be completed to be accepted.
Please Note it is the individuals responsibility to check with their line manager that their application has been received and processed.
Please do not print the full guidance and ensure that the form only is sent to you Care group/Service allocated person.
To view this years guidance click here
To download this years form click here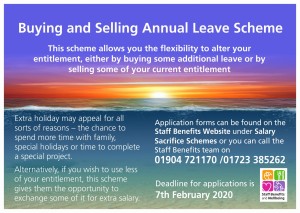 Click here to return to the main Staff Benefits menu.