Hull York Medical School (HYMS)
A different kind of medicial school
Hull York Medical School is the joint medical school of the Universities of Hull and York.  It was established in 2003 - combining York's strengths in biological science and health sciences and Hull's Postgraduate Medical School and large clinical base. Today that partnership is stronger than ever.
Hull York Medical School's academic and clinical researchers across Hull and York have a strong reputation for their work and pursuit of excellence.  Their combined strengths in scientific research and patient centred care ensure that students graduate with the skills needed to thrive in a rapidly changing healthcare world.
HYMS are proud of their strong partnerships with local NHS trusts and community organisations.  These partnerships enable them to remain abreast of local and national workforce needs and provide a breadth of early and sustained clinical experience for students.
How to find out more about HYMS?
To find out more about HYMS, including admissions, visit the HYMS website or telephone the University of Hull (0870 126 2000) or the University of York (01904 433527).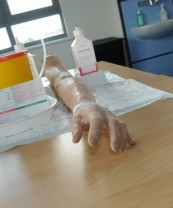 Learn more by visting the HYMS website