Accessible Parking at York Hospital
York Hospital has over 50 Blue Badge car parking spaces for patients and visitors.  Most of these spaces can be found in front of the main hospital entrance, which can be reached via the main entrance on Wigginton Road.
Our car parks are regularly patrolled by car parking and security officer on duty.  They will be happy to assist you so please don't hesitate to approach and ask the teams for advice or support.
To avoid congestion and keep a clear route for ambulances and patient transport vehicles, there is no waiting allowed at the entrance to the Blue Badge car park.  If all the spaces in this area are taken, then please utilise the near-by multi-storey car park (MSCP), where you can also park for free by passing your car registration details across to the team, which will ensure the barriers automatically raise upon at approach.
If your vehicle is higher than the MSCP height limit of 2.1 metres (approximately 6 foot 8 inches), or you are not able to use the MSCP for any other reason, please speak to the Security Team for further assistance by calling 01904 721241.
---
Parking in the multi storey car park
Ticketless Automatic Number Plate Recognition (ANPR) technology cameras will read your vehicle's number plate on arrival and on exit.
As a Blue Badge holder, you may park in any space.
The MSCP has a lift that goes to each floor with access for wheelchairs.
Wheelchairs are available in the MSCP on the ground floor next to the pay stations and the first floor next to the pedestrian entrance/exit doors.
---
Parking in the MSCP if you need side access to your vehicle
If your vehicle has been specially adapted at the side, or you need side-access for your wheelchair, you may need to park over two bays.  If you do this, please display your Blue Badge to avoid a parking charge notice.
Please tell the car park office that you have parked across two bays and where you have parked.  The car park office is on the ground floor of the MSCP and is open Monday to Friday, 9am-5pm.  Your car and Blue Badge will be checked by the car parking and security officer.
---
Help us to help you
Please respect our car parking and security officers - they are here to help make everyone's hospital visit as easy and safe as possible.
Please do not be offended if you are asked to show your Blue Badge.  This helps make sure that the Blue Badge system is not abused, and the service is available for those who genuinely need it.
Please note that some security staff are now equipped with bodycams, which will be activated for video and audio recording in the event of security incident.
If you have access needs, you may want to talk these through with your clinician. 
If you come to hospital with a carer or relative, could they drop you off at the main entrance before parking in the multi storey car park.  This will help us to keep Blue Badge spaces free for patients who may need them the most.
Please do not park on double yellow lines or hatched areas, which must be kept clear for emergency vehicles.
---
If you need help
Between the hours of 8am until 5pm there is always a member of car parking and security staff available to help patients and visitors.  If you have individual needs, and/or are concerned about getting safely from your car into the hospital, please do not hesitate to ask.
Outside of these hours, if you need help please ask at the main reception or you can contact the security control room by calling 01904 721241.
If you require any additional information ahead of your visit, please contact our Patient Advice and Liaison Service (PALS) on 01904 726262 or email pals@york.nhs.uk.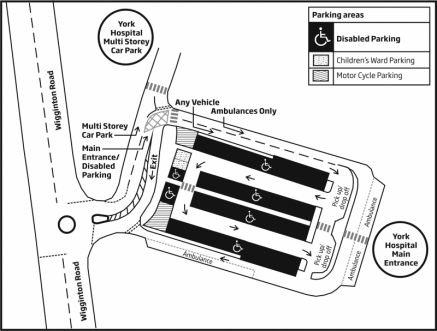 Visiting times
Visiting is between 2pm-8pm.
Contact details
Wigginton Road
York
YO31 8HE
T: (01904) 631313
F: (01904) 631314