Our Performance
York Teaching Hospital NHS Foundation Trust is a large, complex and diverse organisation. 
We have tight monitoring systems in place to make sure we consistently meet all the national performance targets set by the Care Quality Commission (England's healthcare watchdog), as well as delivering a high quality and safe service to all our patients.
---
What does the CQC say about us?
All NHS bodies are subject to a number of external reviews to assess performance and the outcomes are made available to the public and other healthcare organisations. 
The Care Quality Commission carry out regular checks on our hospitals. The latest inspection of our hospitals showed that all essential standards are being met.
For more information please click here to be taken to the CQC's website.
You can see a summary of the CQC's latest inspections of our hospitals at the links below:
---
Quality audits and performance reports
We have an active programme of clinical audit. Clinical Audit is the process by which our own quality of care is compared with exemplar standards. Clinical audit is undertaken as part of our Clinical Governance framework to help us ensure that our hospitals and services are safe.  Details of our performance reports presented to the Trust Board will be available here.    
---
Consultant treatment outcomes
NHS England has begun the staged publication of mortality rates for individual hospital consultants in ten specialties, giving patients more information about their treatment, and helping the NHS drive up and maintain the quality of care.  You can access data for our trust here.  The data also can be seen on the NHS website.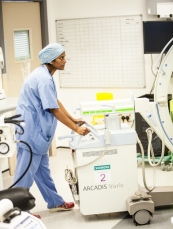 The Care Quality Commission is England's healthcare watchdog.